Parliamentary Groups in the German Bundestag
The KGParl aims at step-by-step editing and publishing of the minutes of proceedings, or rather the transcribed audio documents, of the most important parliamentary groups of the German Bundestag. With this, the Commission offers reliable and easy to use source material for historical and other research concerned with parliamentary matters, as well as for the interested public. The editions on the two major parliamentary groups of the Bundestag, CDU/CSU and SPD, for the years from 1949 to 1976 are already complete. This also applies to editions on the FDP from 1949 to 1969 and the Greens from 1983 to 1990, as well as on the CSU state parliamentary group from 1949 to 1983.
The years between 1972 and 1976 marked a period of internal conflict and new beginnings in terms of personnel for the CDU/CSU parliamentary party. After the failed vote of no confidence and the lost general elections, CDU and CSU parliamentarians had to hold their ground in the disliked role as opposition party. For the first time, the CDU/CSU was no longer the largest parliamentary party of the Bundestag. It struggled for a political and strategic course in confrontation with the social-liberal coalition. Even the union between the two sister parties was no longer taken for granted.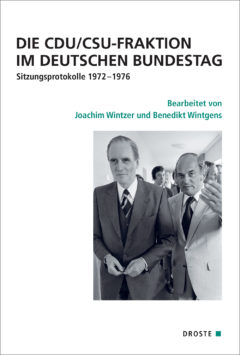 In the context of the edition project »Parliamentary Groups in the German Bundestag (1949–1990)« that is institutionally funded by the German Bundestag the research focus has been restructured and expanded in personnel in 2013. Thus, the continuation of the edition project is ensured. In January 2020, the editing period of the project was extended to 2005 by decision of the Editions Advisory Board.
The minutes of the CDU/CSU and the SPD parliamentary groups have been published simultaneously and according to election periods from the year 2013 onwards. The minutes of the FPD parliamentary group and the CSU state parliamentary group cover several election periods. Due to the amount of material, an annotated selection of minutes is each being published in book form. At the same time, the complete stock of documents of proceeding minutes of all parliamentary groups which have been edited so far will be published on the online portal of the edition project »fraktionsprotokolle.de«.
With this edition project the KGParl presents unique source material on the history of parliamentary culture and parliamentarianism of the Federal Republic of Germany and makes it accessible both for research and the public. In the medium-term, it is developing a documentation on internal communication and decision-making structures in a modern parliament that is one of a kind globally. Thus, the edition project also contributes to political education and education on the principles of our parliamentary democracy.
Contact: Sven Jüngerkes